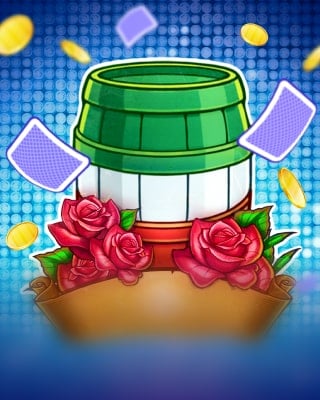 Loteria el Barril
The Spanish themed slot by NetGame is featured with an attractive interface, high quality animations of rich cats and perfect stereo sound. The plot of the slot is based on a romantic story in sunny Spain. All symbols, graphics and sound effects vividly reflect this theme. More animated effects appear during the Bonus games.
In the end of this Loteria El Barril review we should point out that the slot is completely worth punters' attention. Combination of a comparatively high RTP and Medium volatility together with effective design provide the stable high rating positions. Moreover the slot is perfectly adapted for mobile operating systems with various screen sizes. So, punters can play it anywhere they want at any available time.
Loteria El Barril features
Loteria El Barril is a new Spanish themed online slot by NetGame Entertainment. The game is based on the Dropdown feature. Punters are offered a classical play screen of 6 + 1 reels model. There are 117,694 betways with their randomly changeable number at each spin. The Loteria El Barril slot machine provider offers Medium volatility, high RTP, and 100–5,000 coins bet level. The Max Prize is 7,000,000. The Max Prize Multiplier is 1,400x. Punters can play this slot online for free in demo, because this is the best way to test the game.
Loteria El Barril Anatomy
The basic gameplay has much in common with most Dropdown slot machine strategies. The goals of the main game are winning combinations, as well as Hold'N'Link Bonus Feature. Dropdown feature explodes all symbols from the combination, and new symbols fall into their place. 6 or more El Barril Scatters trigger the Bonus. Punter gets 3 Free Spins with El Barril symbols on a screen only. Mini, Minor, Major, or Grand Jackpots can be awarded during this feature. It is recommended to start playing the Loteria El Barril slot in demo mode. Such an experience is the best way to test the gameplay specialties.
Loteria El Barril Symbols
There are 10 basic symbols (5 high, 5 low), a Rose Wild, and an El Barril Scatter at the Loteria El Barril slot. Basic symbols make winning combinations if 3 or more similar pictures appear on a betway. Wild substitutes all other symbols except Scatter. Scatters activate the Bonus features as it was mentioned before.
| ICON | Symbols | Paytable |
| --- | --- | --- |
| Icon 1 Loteria el Barril | 6 5 4 3 2 | x10,000 x3,000 x1,000 x500 x200 |
| Icon 2 Loteria el Barril | 6 5 4 3 | x500 x250 x150 x80 |
| Icon 3 Loteria el Barril | 6 5 4 3 | x250 x150 x80 x30 |
| Icon 4 Loteria el Barril | 6 5 4 3 | x200 x100 x50 x30 |
| Icon 5 Loteria el Barril | 6 5 4 3 | x120 x60 x30 x20 |
| Icon 6 Loteria el Barril | 6 5 4 3 | x100 x60 x30 x20 |
| Icon 7 Loteria el Barril | 6 5 4 3 | x60 x50 x30 x20 |
| Icon 8 Loteria el Barril | 6 5 4 3 | x70 x50 x20 x10 |
| Icon 9 Loteria el Barril | 6 5 4 3 | x60 x40 x20 x10 |
| Icon 10 Loteria el Barril | 6 5 4 3 | x50 x40 x20 x10 |
| Icon 1 Loteria el Barril | Mini Jackpot | x10 |
| Icon 2 Loteria el Barril | Minor Jackpot | x50 |
| Icon 3 Loteria el Barril | Major Jackpot | x250 |
| Icon 5 Loteria el Barril | Grand Jackpot | x1,000 |