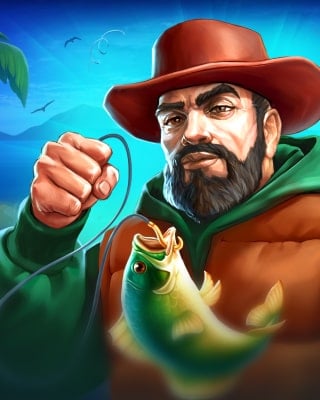 Big Catch Bonanza
Due to the Big Catch Bonanza review, players prefer this game for the original theme that is built upon the storyline of fishing. The symbols like boats, fish, and lifeboats only implement the main motive. The graphics are quite modern with bright colors and smooth animations. The sounds help to feel the atmosphere of fishing and dive into gameplay.
Big Catch Bonanza also features engaging bonuses that take the excitement to another level. 3, 4 or 5 scatter symbols can trigger 10, 15 or 20 free spins. During the free spins mode, the fish symbol is also available, which will bring you more prizes. Sounds great, isn't it? So grab your fishing rod and dive into the excitement of this thrilling game today.
Big Catch Bonanza features
The main advantage of the game is that it is an online slot by NetGame Entertainment. It means that gamble is available as the ​​slot online for free in demo mode without registration and any financial risk. This is a 5 reel slot with frequent free spins as bonuses. It has a fairly simple interface, which makes the game accessible even for a beginner in this field. The RTP level of the Big Catch Bonanza slot machine is 96.23%, the variance is low. Bet sizes can also be different for players with various budgets.
Big Catch Bonanza anatomy
The gameplay in the game is quite simple. Prizes can be received by players who have got winning combinations from left to right. But there are exceptions — this is the collection of payments of Wild symbols and Scatters symbols. To start playing the Big Catch Bonanza slot, users should decide whether they play the demo version or play for money to win big. They can also employ various slot machine strategies to maximize their chances of winning.
Big Catch Bonanza symbols
The Big Catch Bonanza slot has usual symbols and special items. The collection of special signs includes Wild symbols, Scatters symbols, and fish items. Each symbol has its own monetary value, which can be found in the table below.
Symbols
Paytable
Scatter of Big Catch Bonanza
5 4 3
x1.0 x1.0 x1.0
Icon 1 Big Catch Bonanza
4 3
x5.0 x1.0
Icon 2 Big Catch Bonanza
5 4 3
x2 x0.6 x0.1
Icon 3 Big Catch Bonanza
5 4 3 2
x200.00 x20.00 x5.0 x0.50
Icon 4 Big Catch Bonanza
5 4 3
x100.00 x15.00 x3.00
Icon 5 Big Catch Bonanza
5 4 3
x50.00 x10.00 x2.00
Icon 6 Big Catch Bonanza
5 4 3
x50.00 x10.00 x2.00
Icon 7 Big Catch Bonanza
5 4 3
x10.00 x2.50 x0.50
Icon 8 Big Catch Bonanza
5 4 3
x10.00 x2.50 x0.50
Icon 9 Big Catch Bonanza
5 4 3
x10.00 x2.50 x0.50
Icon 10 Big Catch Bonanza Slot
5 4 3
x10.00 x2.50 x0.50
Icon 11 Big Catch Bonanza Slot
5 4 3
x10.00 x2.50 x0.50