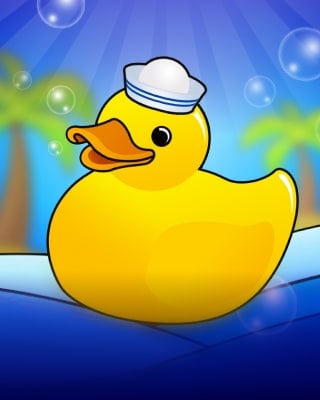 Bath Ducks
Bath Ducks shows players a delightful theme whose storyline is centered around bath time fun. The game creates a whimsical world where users can enjoy the playful experience of rubber ducks, fruits, and other toys. The graphics are charming, their cute designs capture the essence of a duck's bath time adventure. From plums and cherries to oranges and ducks, the visual elements add more emotions to the overall enjoyment.
Due to the Bath Ducks review, the sounds complement the theme perfectly, with cheerful tunes and splashing sounds that enhance the gaming experience. The animations are smooth and engaging, bringing the symbols to life with delightful movements and interactions.
Bath Ducks features
Bath Ducks is an online slot by NetGame Entertainment that offers players the option to try the slot online for free in demo mode. This function allows users to explore the game's features and gameplay without the need to wager real money. The gamble provides a range of bet sizes to accommodate different player preferences and budgets. There're coin packages from 499 to 19900 entries. The variance of Bath Ducks is specified as low, indicating a more frequent but lower payout structure. The RTP level of the Bath Ducks slot machine is quite high.
Bath Ducks anatomy
When players start playing the Bath Ducks slot, they have the opportunity to employ various slot machine strategies to improve and diversify their gameplay. These specific techniques can include managing their bankroll effectively, adjusting their bet sizes based on their budget and risk preference, and using special betting patterns to maximize their chances of winning. The game-play also involves spinning the reels with an aim to get winning combinations across the paylines. The bonus features mean additional rewards, more excitement, and more opportunities to win.
Bath Ducks symbols
Bath Ducks slot suggests a playful and charming experience with its delightful symbols. From nice ducks to colorful fruits, the items in this game bring a sense of fun and lightheartedness. Each sign represents a unique aspect of the theme, creating an immersive atmosphere. Ready to dive into a world of fascinating symbols and uncover the treasures of the gamble? Check out the table below and get started!
| ICON | Symbols | Paytable |
| --- | --- | --- |
| Bonus of Bath Ducks Slot | 5 4 3 2 | x3200 x1600 x400 x160 |
| Wild Symbol of Bath Ducks Slot | 5 4 3 | x40000 x24000 x12000 |
| Icon 1 Bath Ducks | 5 4 3 | x4000 x600 x100 |
| Icon 2 Bath Ducks | 5 4 3 | x1200 x300 x80 |
| Icon 3 Bath Ducks | 5 4 3 | x1200 x300 x80 |
| Icon 4 Bath Ducks | 5 4 3 | x1000 x200 x60 |
| Icon 5 Bath Ducks | 5 4 3 | x800 x20 x40 |
| Icon 6 Bath Ducks | 5 4 3 | x420 x80 x20 |
| Icon 7 Bath Ducks | 5 4 3 | x420 x80 x20 |